You may or may not already know this....but I'm a hoarder....of nail polish.
*Note: this is NOT my picture, but my collection has looked this ridiculous at some point or another. :)
I've never taken the time to count the number of bottles I've had, but at one point just closing the top drawer of my nightstand (where I keep them) would take a good bit of shuffling around of nail polish bottles.
I'm proud to say that I've culled down my collection a good bit. It's amazing how many of those babies were waaaaayyy passed their prime and had all but hardened.
Being the nail polish junkie I am, this also makes me somewhat of a nail snob. The first thing I notice about someone is their handshake (limp handshake? work on that!)...the second thing....you guessed it, their nails! Men, women, it doesn't matter. I check yo nails out! Next is eye contact, then smile...because I just know you were wondering.
More random nail-related Lauren facts:
~ I'm super picky about my nails and I only do them myself. No manis/pedis for me.
I just prefer to take care of them on my own. I had a pedicure once and hated every single second of it. I guess I have tender toes, 'cause I was in pain from start to finish.
~ My nail shape of choice is a cross between square and oval.(more oval/rounded on the corners)
The pointy, Fergie-esque nails freak me out!
No.
And to answer the question in the picture......umm,
NOT
!!
NO!!
Getting better with the nude color, but still....NOOOOO!!!!!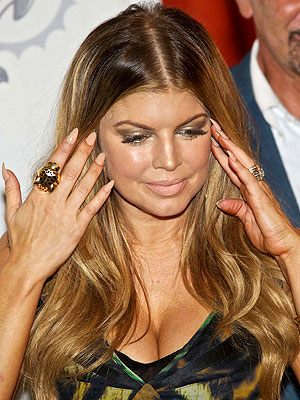 File your bird talons into a natural nail shape, woman!!
~ You'll never find my nails bare. Like, ever. 95% of the time they're a nude shade, but NEVER bare.
I just hate the way my nails look with nada on 'em.
~ If I DO venture out and paint my nails a color, I usually get bored with it after about 3 days...max. Then it's back to nude for a while. The majority of my nail polish collection is made up of nude shades. I guess I prefer the classic look like that.
~ The majority of my collection is also made up of Essie polish, AKA: best polish ever.
~ Short nails are the nails for me. I have a certain length I like and once it gets passed it(which doesn't take long. I have some quick growing nails), it's time to file them down! I have a deep hatred for toenails that are too long. Eww.
~ I seriously have to file my nails down at least twice a week. (sometimes 3 while I'm pregnant. hormones kick the growth in overdrive)
~ I have to literally talk myself out of buying a new shade when I'm at the store...especially when I'm at Target. They have the best Essie selection ever. Another reason Target really is no good(yet absolutely amazing) for me.
Some of my absolute favorite Essie shades...
Come Here!
is a beautiful pinkish-coral color that just really looks great on all skin tones. This is one of my favorite colors to put on my nails during the Summer.
Turquoise & Caicos
- the name is a little misleading here, but I still love it. It's more minty than anything and looks really pretty on tanned feet.
Mademoiselle
is my new favorite nude shade. I've tried them all, and I mean ALL!! I like Ballet Slippers and Limo-scene as well, but I really like how natural Mademoiselle looks. It's not too white, and not too pink. It's a little sheer, so I like about 2-3 coats of it to give the perfect light pink nude color. It'd be a great base for a french manicure as well.
E-nuf is E-nuf
is another great coral color. It has a little less pink to it than Come Here and is a little darker. It's a favorite colored shade for my toes during the Summer months. Super flattering shade.
Merino Cool
is hands-down, my absolute favorite Fall/Winter shade and I just had to share it. I'm not big on dark shades during the Spring/Summer so I do save this for strictly Fall/Winter. I'm not really comfortable in the black polish that's become popular and this is a great alternative when you still want something a little dark, without running the risk of looking gothic. It shows up slightly purple/plum, and it's really flattering.
In case you were wondering....I've currently got Mademoiselle on both the fingers and the toes. Might spice it up with a little E-nuf is E-nuf on the toes soon. :)
So, is anyone else out there a nail polish junkie? Please tell me I'm not alone!