Today I'm linking up to some of my favorite lovely blog ladies for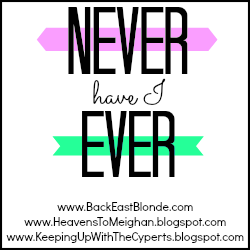 This outta be fun!!
Let's get to it!
Never have I ever...
...colored my hair
...completely burnt or ruined something I've cooked (there's still time, though!)
...been on a cruise, and after all this Carnival mess the likelihood of me EVER going on one is veeerrrrryyyy slim
...been pulled over
...seen The Hunger Games...yeah, I know....
...been hunting (don't plan to, either. bleh)
...had a car without a sunroof. y'all, it's the first thing I look for in a new car. weird? probably
...broken a bone. moving on...thinking about that topic long enough makes me nauseous
...been admitted to the hospital (other than for having a baby, duh)
...eaten prime rib (the spongy texture grosses me out), veal, lamb, or duck. I just can't
So, there's some random things that I've never done before. Be sure to link yours up so we can check 'em out!