Alright, y'all. Today is the day!!! My 3 year blog anniversary is in a few days and what better way to celebrate than with a "My Favorite Things" giveaway?!?! I am SO excited and I hope you are too!
ONE lucky person will win ALL 7 of these fabulous prizes! Over a $100 value!!!!
They have THE cutest clothes, especially during the Spring/Summer, so you're gonna love it!
$20
Target
Gift Card, because you know I'm obsessed with Target. I mean, aren't we all??
Turquoise Bubble Necklace from
Caroline G
. ($20 value)
AND Caroline G. is throwing in the matching Bubble Earrings! ($15 value)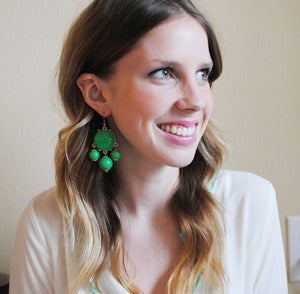 (in turquoise, of course)
I absolutely LOVE my necklaces from her shop. They're affordable and such great quality. The colors are beautiful and vibrant and I wear mine all. the. time. She offers others necklace styles, as well as the cutest hair accessories. Check her out! You're sure to find something you like.
$10
TOMS
Gift Card. I recently discovered the awesomeness of TOMS shoes. The most comfortable things I've ever put on my feet. And super cute! And if I can help a child in need get a pair of shoes also, then that's reason enough to get a pair for me!
2
essie
nail polishes in fun Summer colors ($16 value)
"e-nuf is e-nuf" & "turquoise & caicos"
The giveaway will END at midnight Wednesday, the 15th, and I will announce the WINNER sometime Wednesday afternoon after I verify the entries! Yes, they will be verified so you (and I) can know it's done fairly.

Check it out, earn all the entries you can through the Rafflecopter below, and GOOD LUCK!!