(and no, I do not endorse Mr. Crazy Charlie Sheen. I just thought that was funny.)
Just a quick note to let you all know that a winner has been chosen for the Stella & Dot giveaway. Congratulations to Trish Flynn!!! As I said in my email, Ashley will contact you soon to get the earrings to you. I know you will love 'em!! :)
Thanks to everyone who participated in the giveaway and showed some support to Ashley and her business. Remember to keep her in mind for all of your Stella & Dot needs and events. Also, don't forget there's an
online trunk show
in my name that will be up for a few weeks so you can browse around and purchase through that. Any items you purchase will be delivered right to your door.
Please feel free to email Ashley at
astork.stylist(at)gmail(dot)com
with any questions you have about any pieces, are looking to host a trunk show of your own, or want more information about starting your own career with Stella & Dot.
I hope you guys had a great weekend. Unfortunately, it went by too quickly.
Raise your hand if you felt like this when you realized tomorrow is Monday.....
**throws hand up in air **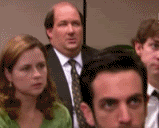 No, I do not accept the fact that the weekend is over!!
Sorry, I'm having a hard time letting go of The Office.
Here's to hoping your Monday treats you well. (OK, decent..that's really the best a Monday can do, after all)